Emails are one of the most important communication tools that people around the world use to communicate and stay up to date with the latest news information, but retaining control over email inboxes might prove be a challenge.
269 billion emails were sent and received each day in 2019, and if you divide this by the world's population of roughly 7.5 billion people (assuming everyone has access to the internet), then you're looking at roughly 35 emails per day.
In line with my mantra of effective organisation, I like my email inbox under control to make emails easier to manage. One of the most annoying things that can happen is to be constantly bothered by new email notifications and the constant stream of unread emails in your inbox, and the flashing red badge staring at you all day on your phone.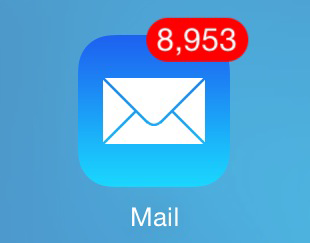 Getting that number down to zero is not too tedious with the right tools, tips and a little motivation from yourself. Let's get started.
#1 Start with unsubscribing junk and useless newsletters
There are a few ways to unsubscribe junk newsletters or those useless marketing emails that you don't really care – my preferred way is to just use a free service like Unroll.me or Unsubscriber to do it quickly for you. These services can help you unsubscribe in bulk by scanning your inbox and identifying marketing emails which you can block.
For example, unroll.me – owned by Rakuten Intelligence – allows you to instantly see a list of all your subscription emails and you can unsubscribe with one click.
However, these services might sell your data to other firms for market intelligence so if you're not comfortable with that then manually unsubscribing through your email provider or hitting the unsubscribe button at the bottom the mailing list is your next best bet.
Irregardless of the method you choose, your first priority is to stop new junk mails from flooding your inboxes.
#2 Create labels and categories for your emails
This one is important, and one that builds good email habits.
I want you to look at your inbox and identify the several common categories of emails that you receive everyday. It could be things like banking statements, or e-commerce receipts, newsletters, insurance e-policies and many others.
Start by creating labels or folders of these common categories at the level that you think you'd be interested in. For example, I receive a lot of investment research and reports from my brokers. I also receive a lot of receipts and want to categorise them by type and store them somewhere.
Gmail uses the label system, which is similar to folders, except that you can assign multiple labels to an email to tag into more than one categories.
With this in mind, I created several labels to help me organise these major topics – from life admin, to personal finance, receipts, subscriptions, travel, and a research label to tag investment research, which has sub-labels of the different banks.
#3 Do a one-time cleanup of old emails
With your labels and folders newly created, you can now start organising your emails into these labels.
There are several ways to do this – you can either 1) dump all historical emails into a single folder tagged as archives or legacy emails or 2) do a big cleanup of ALL your emails, 3) or a combination of both, depending on how far back you'd like to go.
When I did the cleanup two years back, I deleted or archived most of my historical mails and started from scratch. Of course, you need to find the right balance between relevance and time.
The fastest way to do this is to use Gmail's powerful search feature built into right into Gmail, which leverages some of their search engine prowess.
I'll illustrate with an example – suppose you have tons of receipts from Grab you'd want to do a cleanup of all similar emails into a receipts folder.
At the search bar on top, you can paste in the email title Your Grab E-Receipt or the sender email (no-reply@grab.com), click the down arrow to expand the options and hit search.
The next page brings up all your receipts that correspond to the search parameters.
Select all mails, click select all conversations that match this search, click on the label button, label it as receipts, and apply to all matching conversations.
You will now automatically categorise all of your receipts from Grab – which you can now safely archiveand if you ever need to find them in the future you can do so via the label Receipts.
Repeat this for your major categories including monthly bank statements and you'd be off to a cleaner inbox in no time!
#4 Auto-filing magic
The next step in the process is to auto-file incoming mails that you don't need to see. These can be non subscription mails but you want them automatically filed.
Using the same method above, instead of using search, create a filter with the selection and select skip the inbox, and apply the label. 
Beautiful! Now your labelling works with new incoming mails as well with no extra effort on your end!
#5 Delete, Delegate, Defer or Do
Number 5 is a productivity hack that is known as the 4 Ds of time management.
Basically you can deal with every email that comes in with one of the four actions above.
Delete – literally delete the email (or archive them for future use)
Delegate – get someone else to do it
Defer – do it later (snooze)
Do – do it now
It's very simple, and usually for emails that can be replied within the next 2-5 minutes, I'll do it. Otherwise, I would defer or delegate it away. For rubbish emails that pop by, deleting them is the easiest way to deal with it.
#6 Get used to archiving with swipe gestures
For me, archiving emails (instead of deleting them) is my default option because you retain the flexibility of searching for them in the future. Archiving emails vanish from your inbox, but you can still search for them.
The keyboard shortcut for archiving an email is 'e' on Gmail when an email is opened, and if you're on mobile, I always choose to archive easily from the email list with a swipe.
#7 Disable mail notifications unless it's important
Notifications are an attention seeking b-tch and draw your attention away from what you're actively doing into something completely irrelevant sometimes.
You can completely turn off email notifications or do it selectively like me, although it is slightly more cumbersome to set up.
If you're a hardcore productivity person, then creating specific schedules in the day to check your mail can make you far more productive and effective, rather than being constantly bugged by email notifications.
#8 Turning off badges to reduce the need to check your mails
This takes #7 another step further by removing that red little button on the top of your email app.
I hate it and the OCD me wants to open my mail every time I see a number on it. I disable it completely, and only my app only sends banner notifications to my notification centre (not even my home screen!).
#Bonus Create unlimited email addresses from your primary one (Gmail)
My bonus email hack is a very easy and useful way to create multiple email accounts from your primary account.
The use cases are tremendous, from creating email accounts for filtering emails such as newsletters, or ensuring incoming mails to this email address are flagged as top priority, you can do it expand the use of your primary address in many ways.
All you need to do is to add '.' or '+' in between any letter before the @ sign on your gmail email address and voila – another email address directed to you!
For example, if your primary email address is johntan@gmail.com , then john.tan@gmail.com or johntan+anyword@gmail.com all belongs to you!
Magic. Just try it for yourself by sending an email to your own address with those modifiers.
#10 Live your life
Now that you know how to conquer your inbox and make peace with your mails, you can live your life the way you want without being bogged down by your overflowing inbox.
That's all! I hope that these tips were helpful in decluttering your digital life. If you like the content, you can subscribe to the mailing list to receive exclusive content in the future.