It's the eye of the tiger, it's the thrill of the fight
Risin' up to the challenge of our rival

Survivor – Eye Of The Tiger
Tiger Brokers is a publicly listed Chinese online securities and futures trading platform to both retail and institutional clients.
It was founded in 2014 that originally started to cater to the huge demand for investing in overseas stocks by Chinese investors. The Tiger Trade app was launched earlier this year in Feb and SGX trading support was added in June 2020.
They are MAS regulated under the Capital Markets Services License with investors such as Xiaomi and Interactive Brokers.
The key features are:
Investors can trade across SGX, NASDAQ, NYSE, HKEX markets from a single platform
Trade via desktop (Mac and Windows) or on their sophisticated mobile trading app
Multi-currency trading platform with in-app foreign currency exchange
Complimentary real-time stock quotes
Trading charts
In-app stock screening
Price competitive brokerage fees
Let's take a closer look at the experience in this review.
The following content contains a non-sponsored review, but may contain affiliate links. For my disclosure policies, please read them here.
Registration and Account Setup
The registration process is very simple thanks to its integration with MyInfo, which pulls all the required data needed for account setup from the government portal.
You would need to go through the initial Know-Your-Customer and Customer Account Review (CAR) checks in order to certify your investment knowledge and your suitability to trade in the required products.
Once that application process is completed, it will take a while (usually under 2 hours) to fully verify your submission and create your trading account.
Setting up the account is very fast and super easy, it takes less than 10 minutes to complete the registration especially with the pre-filled template from MyInfo.
Fund Deposits
To start trading on Tiger Brokers, you'd need to fund your trading account in either of the three currencies currently supported – SGD, HKD or USD. You can also make currency conversions in-app.
To do this, you can either head over to their website or do it in the app itself. On the website, after logging in, you should see several options in the main account page. Select Deposit.
Then select the currency you're depositing. If you plan to fund your account in SGD, then select SGD.
You will be presented with the fund transfer details in the next page. This is similar to most trading platforms and robo-advisors. Just create a new payee and follow the instructions given and remember to add your payment reference in the comments.
Once you're done transferring, click on the button to notify them about your incoming deposit. The fund credit should take no more than a few hours even though they said it takes 1-4 working days. Usually if you follow the instructions properly and add your reference code correctly, everything should be quick.
Direct Debit Authorisation with DBS/POSB
Tiger Brokers launched Direct Debit Authorisation (DDA) with DBS/POSB which makes your account deposits even faster – deposits arrive within a few minutes.
After connecting your Tiger account with your DBS/POSB account, you can initiate a deposit instruction directly in Tiger, and the bank will execute the deposit for you. DDA Fast Deposit is more convenient than other SGD deposit methods.
The first step is a one-time setup of DDA which can be found by going to the Deposit tab.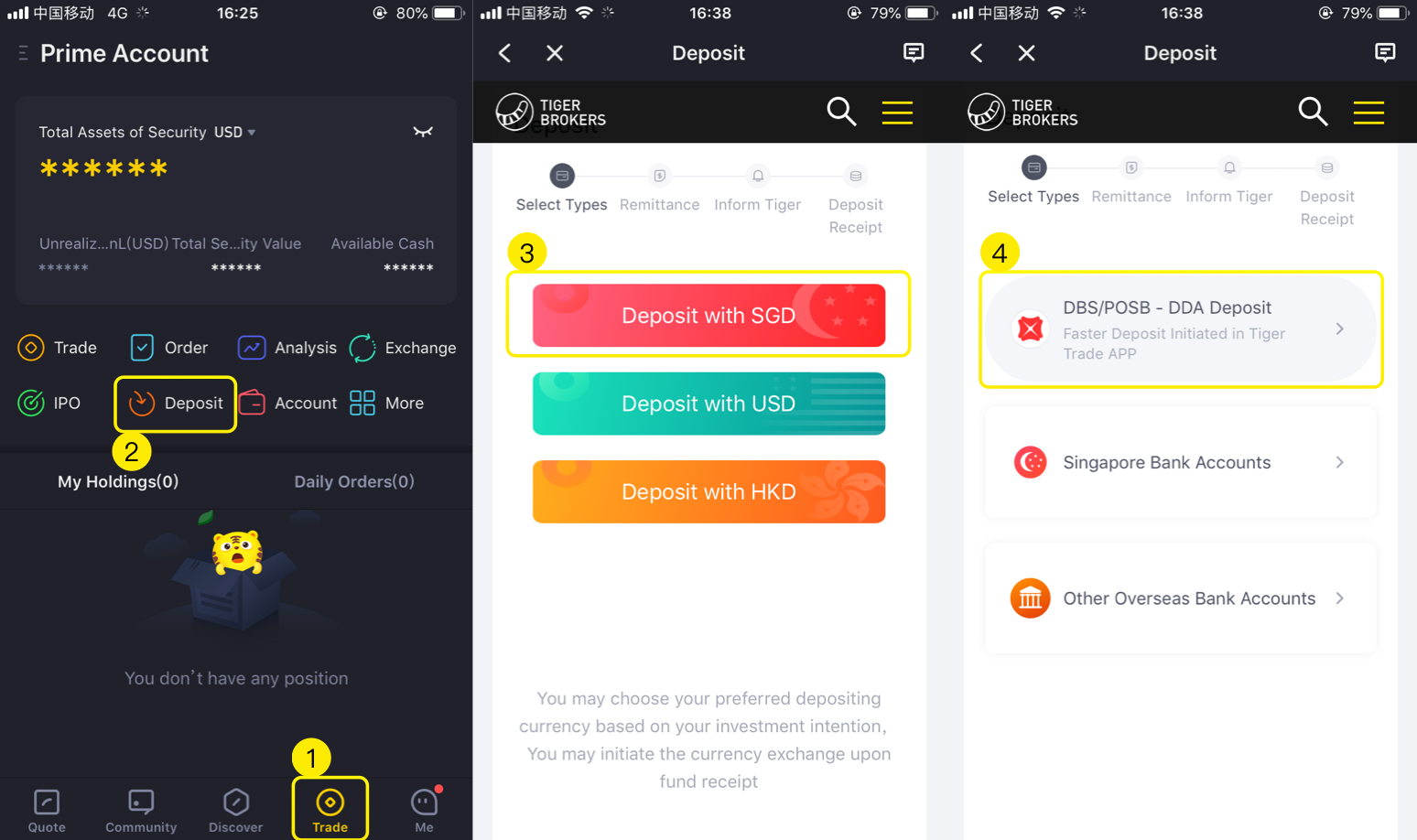 Thereafter, apply for a DBS/POSB DDA setup and authenticate with your DBS/POSB credentials.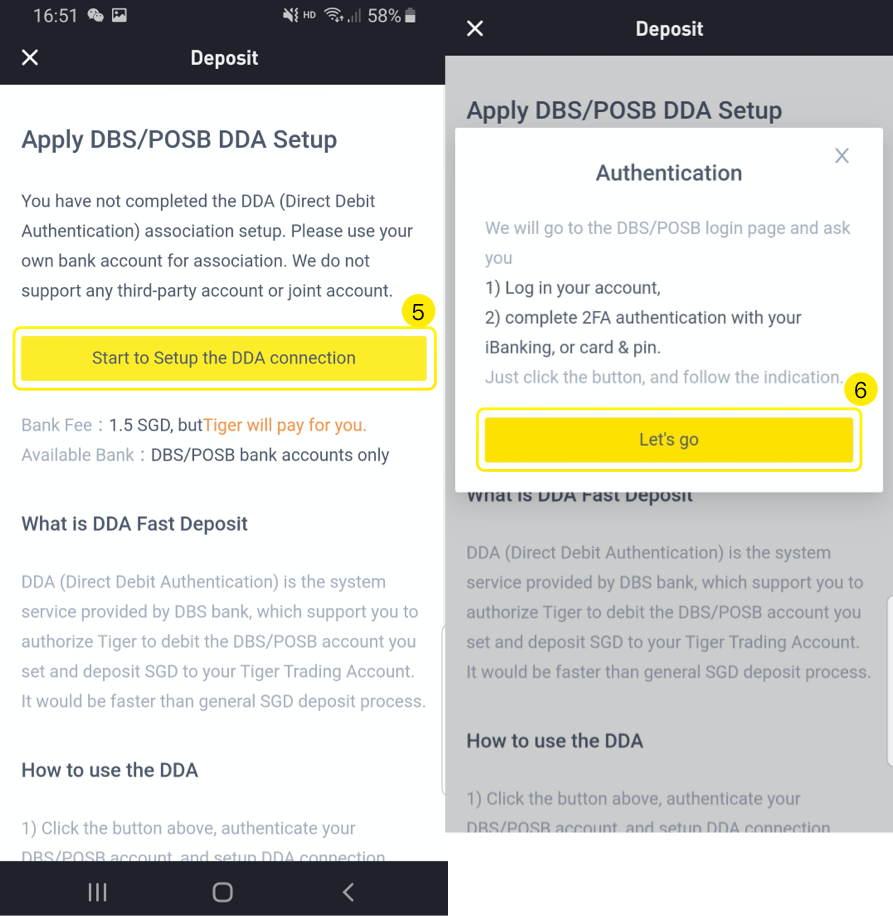 Once done, you can create a DDA request within Tiger Brokers to 'pull' the funds out of your DBS/POSB account via DDA. You can delete the connection via your DBS/POSB account any time by deleting a GIRO arrangement.
Trading Platform
The Tiger Trade app is a very powerful and comprehensive one with a lot of features.
Quotes
The first tab is where you can find a Today's Summary section – a high level overview of the market's performance, stock quotes on a country basis, stock quotes of those in your watch list, and stocks quotes that are most watched by others.
There's also a section that tracks daily performance by industry and some proprietary indexes that they formulate such as the Nasdaq China US Internet Tiger Index.
Usually I'll just use quotes for watching counters that I've added to my watch list. Because there's real-time market data, the stock quotes page is actually very useful if you are also trading on other platforms.
Individual Quotes
Clicking into any of the quotes will show detailed quote information about the counter including tick-by-tick price changes, bid-ask prices and quantities, real-time charting and other indicators such as high/low and opening and closing price data.
Personally, the depth of detailed information (available even for free when you're using their paper trading account) demonstrates the advanced capabilities of the app compared to traditional brokerages.
For those who are into charts, the interface also offers a wide choice of indicators and overlays with fine-tuned controls across multiple time periods.
Both investors and traders will benefit from these features, especially since they are offered free to all users of the app.
Company news and articles
This section brings all sorts of company related news and dumps it in view so you can keep track of your individual holdings. There's also a Company Notice section which I assume it's for regulatory filings, but apparently it isn't working yet as it shows no data is available.
Analysis
The analysis page shows data points such as short interest, days to cover, relative valuation (not available for SGX stocks) that's pretty interesting to see. I guess it's important if you are trading and want to see open short interest and when shorts are going to cover. For long term investors these information do not matter as much.
Company Financials
The company page shows company information such as corporate actions, institutional holdings, and investment performance over several date ranges.
You can also switch view to see financial information such as income statement, balance sheet, cash flow statement and financial performance of the stock — all nicely condensed, visualized and presented in tables and charts.
Trade Execution
Trading is quite straightforward and pretty similar to other platforms. You have the option to buy and sell with multiple order types – limit, market, stop and stop-limit with the time in force options of Day – the order is only queued for the day; and Good-till-Cancel – which queues your order until it's cancelled.
There's a one-click execution of your current cash position so you can easily deploy funds based on a percentage of your current cash holdings. If the trade value exceeds the cash on hand, there will be a small indication to show the amount you're borrowing (if you're on margin).
Finally, there is also an option to fill your orders outside RTH (regular trading hours) so you can trade during hours of the day with lower liquidity.
To preview the commission fees on the order, click the little icon beside the Buy button.
Commissions and Fees
Tiger Brokers has one of the most competitive fees on the market, thanks to its close integration with Interactive Brokers on the back end. You can read my articles on IB if you're really into the most cost-effective trading platform (although not the most user-friendly).
Fees for trading in SGX markets start at 0.08% of trade value, with a minimum of S$2.88 per trade. There's currently a promotion where there are no minimum fees until the end of the year. There's also a small fee levied by SGX on trading (0.0075%) and clearing (0.0325%) that you should bear in mind – but this is across any trading platform you use.
Fees when trading on SGX market
Fees when trading on US market
US Stocks
US Stock Options
Fees when trading on HK market
Hong Kong Stocks
Shanghai/Shenzhen-Hong Kong Stock Connect
Interest rates on financing (US dollar)
Stock Custody and Security
Your investments and funds are held in a trust account managed by a custodian bank or broking firm (probably IB – but it depends on the market). Unlike other solutions in Singapore, which might have custodian licenses, Tiger Broker does not have such licenses and has to rely on third parties to provide this service – similar to most roboadvisors.
This adds a small amount of risk and you should be wary if you're holding large portfolio positions with them.
When it comes to security, I think the basic authentication is insufficient as all it takes is just a username and password to execute trades.
There is an option to add a 2FA solution but you have to use their proprietary solution Tiger Token, which obviously sucks. I do wish they support standard platforms like Microsoft/Google Authenticator or Authy instead.
Tiger Brokers vs other platforms
A key question is how does Tiger Brokers compare against trading on other platforms. The biggest differentiating factor, for me, is how modern the app is.
User Interface and Trading Platform
It takes a lot of UI elements from popular Chinese-based trading apps like Webull and crypto-exchange Binance. So if you're looking to trade on-the-go, the interface is superb. It also comes with cross-platform trading support with desktop and mobile trading options using the same login.
Against its competitors, I'd say the biggest ones are traditional banking brokerages, FSM One and Standard Chartered, there's no comparison. Tiger Brokers wins hands down with their more modern technology stack.
If you're using other platforms to trade, you're either bogged down by legacy infrastructure, clunky user interface or expensive add-on fees to view real-time market data. Tiger Brokers takes away all of that.
| | | | | |
| --- | --- | --- | --- | --- |
| | Tiger Brokers | StanChart Online Trading | FSM One | Traditional Brokerages |
| Account Opening | Minutes | Days | Hours | Days |
| Exchange Access | 4 | 15, including Japan (TSE), UK (LSE), Switzerland (SWX) etc | 4 | Depends |
| Marginable | Yes | Yes | No | Depends |
| Real-time market data (SGX) | Yes | No | Yes | Depends |
| Trade Amalgamation | No | No | Yes | Yes, usually |
| Charting Interface | Modern | Legacy | None | Legacy |
| Order Validity | Day, GTC | Day, GTC | Day, GTD | Depends |
| Order Book | Yes | Add-on | Yes | Add-on |
| Market Depth | Add-on | Add-on | Add-on | Add-on |
| CDP Securities Linkage | No | No | Yes, sell orders | Yes, usually |
In terms of fees, Tiger Broker wins hands down. It's currently the cheapest brokerage for trading Singapore stocks, and it benefits from an all-in-one platform to trade globally.
The table below shows the fees charged in SGD for every investment amount per trade made in SGX. Tiger Brokers is the cheapest across the board, even after their promotion period.
| | | | | |
| --- | --- | --- | --- | --- |
| | Tiger Brokers | FSM One | Stanchart Online | Traditional Brokerages |
| Fees | 0.08% | 0.08% | 0.20% | 0.28% |
| Minimum Charge ($) | 0 | 10 | 10 | 25 |
| 100 | 0.08 (2.88) | 10 | 10 | 25 |
| 200 | 0.16 (2.88) | 10 | 10 | 25 |
| 300 | 0.24 (2.88) | 10 | 10 | 25 |
| 400 | 0.32 (2.88) | 10 | 10 | 25 |
| 500 | 0.40 (2.88) | 10 | 10 | 25 |
| 1,000 | 0.80 (2.88) | 10 | 10 | 25 |
| 2,000 | 1.60 (2.88) | 10 | 10 | 25 |
| 5,000 | 4 | 10 | 10 | 25 |
| 7,500 | 6 | 10 | 15 | 25 |
| 10,000 | 8 | 10 | 20 | 27.5 |
| 12,500 | 10 | 10 | 25 | 34.375 |
| 15,000 | 12 | 12 | 30 | 41.25 |
SGX commission fees per trade. In brackets are post-promotion fees.
If fees are especially important to you right now, and if you probably have a small portfolio holding, then Tiger Brokers makes a lot sense.
Help and Support
To get customer service, you can click the Online Chat button under the Me tab to chat with their support agents. You can also use the help center to find frequently asked questions such as fees structure.
During the past few days, my experience in getting customer support was a mixed bag.
My first attempt to contact support was regarding executing a trade, and they got back within two minutes with a decent level of service – in English too, yes.
However, my second support attempt went unattended because their support agents were busy. I couldn't get support the entire day. I was told to leave a message instead.
Promotions and Rewards
Tiger Brokers is currently running several promotions for new sign ups
0.08% with no minimum charge for SGX stocks until 31 Dec 2020
Trader Referral programme
Earn rewards for each successful referral.
Registration: Free Level 2 Data for U.S. stocks for 30 days
Account Opening: Commission free for 1 order of US&HK stocks in 30 days
Depositing funds / Transferring shares: Stock vouchers depending on how much you fund
Step up rewards: Incremental rewards for each friend you refer
Overall Thoughts
Tiger Brokers is a very welcomed entrant to our local brokerage space. As retail investors, high trading fees has always been a problem in the industry especially in Singapore. While investors in the US have many alternative options such as Robinhood, M1 Finance and Webull to choose from, investors here have been stuck with legacy solutions that are decades old.
The bigger hurdle for Tiger Brokers to cross would be to convince investors that they are reliable, safe and trustworthy and that probably takes time.
The user interface is sometimes filled with translation errors, bugs, a mixed of English and Chinese characters, and the website documentation is too insufficient to place a huge amount of trust in them.
In addition, there's a lack of testimonials and track record from them, being new to this space.
I see them very useful for young retail investors who want to accumulate shares and ETFs (both SGX-listed and US-listed) on a single platform with weekly or monthly dollar cost averaging. It's so dirt cheap, and with your portfolio sizes still small, it's easier to forgive its shortfalls when alternatives are way more expensive (100 to 200X more expensive).
On the other hand, those that want to build robo-like portfolios can also do so now, as you can definitely save on recurring fees with a global platform.
For me, because I already have so many brokerages that I've an existing relationship with, I might probably stick with what I have. I currently use FSM One for DCA into local ETFs, Interactive Brokers for DCA into a LSE-listed total stock market ETF, and I also have roboadvisors on top – adding one more platform doesn't make it any easier to manage my portfolio.
For some of you guys out there, Tiger Brokers might be the better alternative – hey, don't you love that we have nice options now?
Register for Tiger Brokers here and get your rewards!
If you care about fees, Tiger Brokers is the best budget platform with sophisticated trading features, data inventory and real-time price quotes. However, it's still in the early stages as there are some visual bugs and translation issues in the app. Use it for quotes if you are skeptical, but it's still early to dismiss it fully - watch it closely.
If you care about fees, Tiger Brokers is the best budget platform with sophisticated trading features, data inventory and real-time price quotes. However, it's still in the early stages as there are some visual bugs and translation issues in the app. Use it for quotes if you are skeptical, but it's still early to dismiss it fully - watch it closely.
Total Score
i

Spiderscore is our ranking system used when reviewing products and services. It is based on a scale of 1 to 10, with 10 being the most highly recommended rating.
Pros
Amazingly low fees
Excellent interface and cross-platform compatibility
Modern and intuitive to use
Quick account setups and fund transfers
Cons
Reputation still weak
Visual bugs and translation issues in the app
Customer support definitely inadequate