Travelling is expensive – the cost of flight tickets, accommodation, transport, attraction tickets, food and bar drinks quickly add up.
As the Singapore economy slows alongside the global economy, some of us might find ourselves trying to save more, eat out less and travel less. If you're a young adult like me who travels almost at least once a year, then finding ways to save money when travelling whenever we can is kind of a… no-brainer.
While budgeting for our expenses and having good money habits continue to serve an important role in personal finance, we can make smarter choices when travelling by simply using the right apps and strategies.
In this post, I will share some travel apps that I absolutely love, the ones that help you save money and be put into experiences you value and enjoy without sacrificing much.
Cashback
Cashback apps like ShopBack and RebateMango are the ones you should look to first before making any booking online because gives you cash rebates whenever you make a purchase after clicking through their site.  
Because the process is very simple, I suggest doing a quick research if your shopping site has rebates on these platforms before buying anything – and you'd be rewarded with some money back without much effort!
Flights and hotel booking
Hopper (iOS | Android) is my favourite flight scanning app. It uses a prediction algorithm that processes trillions of data points to help you predict prices of flights and hotels with 95% accuracy up to 1 year in advance, and you can set up monitoring to alert you when prices change. I use it most for checking when is the best time to book my flight tickets given its accurate price forecast.
Google Flights (Web) is another great useful tool (it's not strictly an app, but you can find it in the Google app). It allows you to see price trends, plan trips, explore destinations on a map and get fare alerts.
Accommodation, hotels and hostels
Airbnb is my favourite accommodation app, as it gives you the option to stay in homes and apartments and also try out local activities hosted by locals. From affordable homes to the very luxurious like Seashell Houses, you trade off the mundane hotel stay in exchange for a local flavour of staying overseas and offer multi-day experiences and adventures that you won't forget. In my experience, Airbnb has a very polished and personalised interface and my stays with local hosts have always been incredibly smooth.
Airbnb has cheap homestays in several countries I've been to, like Malaysia, where you can book an overnight stay at a private Bungalow – the entire house – for less than $30 per person per night, way more affordable than hotels.
If you'd prefer staying in traditional hotels and hostels, there are several aggregators that you can use like Agoda, Booking and Expedia – just find the cheapest one.
Foreign currency exchange
Once you've settled your flights and accommodation, changing money would be next on your priority list.
Depending on your destination, cash may or may not be the most common form of payment. For example, in China, AliPay and WeChat Pay are the most common forms of paying for goods and services, even to the street vendors.
I recommend using debit cards linked to a multi-currency wallet for the cheapest foreign exchange rates and reducing the amount of cash you need to bring with you.
TransferWise and Revolut are my top picks, because of their simplicity of use.
TransferWise gives you foreign exchange with no markups at the real mid-market exchange rate and free overseas ATM withdrawals up to S$350 every thirty days.
Revolut does a similar job, brings spending analytics to your app dashboard so you can track your spending across various countries, merchants, or categories and their premium card gives you free worldwide travel insurance and airport lounge access.
Expense tracking and budgeting
If you spend overseas exclusively on your prepaid debit cards like Revolut and TransferWise, you don't have to worry about expense tracking because it is done in app for you.
However, if you use cash or when you travel with friends and you want to split expenses with a group of people and keep track of these expenses, then you need some form of expense tracking and splitting app.
Splitwise (iOS | Android) is a free tool to track shared expenses, so that everyone gets paid back easily. You can create groups of friends and everyone has their borrowing and lending tracked in the app.
DBS PayLah! (iOS | Android) is also one of my favourite apps because of its request funds feature – which allows you to split a SGD-denominated bill easily with a group of up to 10 friends in your contact list and include yourself in the payment.
Transportation and rides
Google Maps (iOS | Android) is by far one of the best transportation apps around. With route navigation and transit directions and timings across buses, trains, bikes and ride-sharing modes, your travel commute has never been made easier.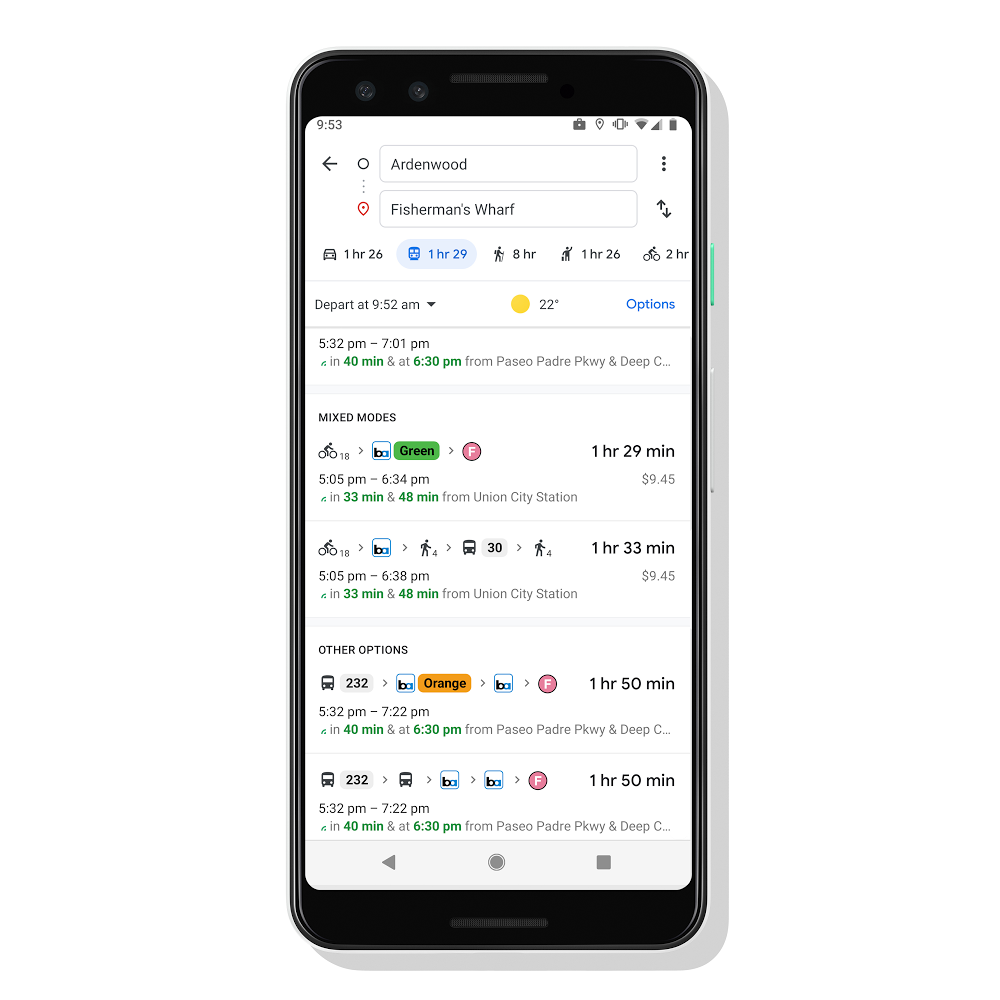 For a fresher option, CityMapper (iOS | Android) is also a great tool for multi-city, multi-modal navigation. It functions like a transit guide and maps the best transport route for you – helping you plan ahead of time and suggesting an appropriate time to leave so you won't be late.
It goes a bit further than that, and it is in the process of reinventing its route planning algorithm, create missing data from open sourced data, manage real-time issues like the recent Hong-Kong protests etc.
Using these transportation apps can help you save time and money by finding out the fastest and cheapest transportation options, across multiple modes of transports. On Google Maps, you can also check the opening and closing times of the attraction, what other people are saying about it, so you can evaluate whether it's worth spending your money visiting.
Ticketing
For tickets to attractions, tours, experiences and activities such as Tokyo Disneyland, I recommend using Klook for its low prices and simple booking experience. In addition to booking tickets to tourist attractions, you can also find tickets to experiences like this Mt Fuji Flower sightseeing trip from Tokyo, or JR passes for Japan there.
Saving money can be easy
Saving money when travelling is not difficult, and technology advancements in recent years has made it easier as businesses pass-through cost savings to us from automating their platforms and building scalable processes.
What's your favourite app to save money? I'd love to hear from you guys!