Products that push the limits of innovation and help us manage our personal finance easier and better always excite me. Revolut has finally launched in Singapore. Without further ado, let's talk about the latest kid in town.
Preface
Over the past two years, I've explored and had the opportunity to play around with several fintech products like TransferWise, SoCash and StashAway among many others – and they are always a pleasure to use.
Some of them are impressive, while others were more pre-mature and more of a testing ground to see where the financial services market is heading towards.
While banks and larger financial institutions still win when it comes to reputation thanks to many decades of building trust with people, new fintech players bring rapid innovation, cool features and ease of use with their gorgeous user interface on mobile – attributes that appeal to a millennial like me!
The following content contains a non-sponsored review, but may contain affiliate links. For my disclosure policies, please read them here. 
What is Revolut?
If you haven't heard of Revolut, they are actually a UK alternative banking app or also dubbed a banking challenger that started operations in July 2015 by two former Credit Suisse and Deutsche Bank investment bankers. They announced their expansion to Singapore earlier this year and were granted a Remittance License by the Monetary Authority of Singapore, and will also be operating as a Stored Value Facility holder – which does not require the approval of MAS.
To date, Revolut has raised about US$340 million in investments from venture backers that include Index Ventures, Ribbit Capital, Balderton Capital and DST Global. It claims to have over 6 million customers and processed over 350 million transactions to date.
Revolut's goal is to give control back to their clients and users in their financials – from international free ATM withdrawals and money transfers to built in budgeting and money transfers capabilities.
Revolut's launch and experience
Onboarding and setup
The financial services market is a highly regulated one, especially for a developed country like Singapore. That's because firms like Revolut need to comply with anti-money laundering regulations, perform know-your-customer checks and ensure that you are who you are said to be.
In a typical onboarding process, you'd go down to the branch, wait for hours to sign some onboarding documents and wait another few weeks for account opening. Thankfully, with Revolut, the document review process was very simplfied thanks to technology – I had to upload my identification documents (front and back) and take a selfie with the app.
The review took less than 5 minutes before I was informed that I was successful! I was blown away.
Revolut Delivery
The next step after onboarding was to order a Revolut card, but I had to first top up S$20 onto the app via credit/debit card.
Once my payment went through, I was presented with the order page to create my Revolut card design. Unfortunately, free (Standard) accounts like mine can only order the default Blue card but premium customers can order their premium cards, which come with more design options.
Once the card design was chosen, we could choose several delivery options for our card. The Standard delivery (free) would take a week to arrive, while the Express delivery option ($19.99) would take 3 days.
Revolut card unboxing and setup
As expected, on Monday 23 Sep, I received my card in my mailbox wrapped in a white inconspicuous envelope. The card was contained in a cardboard sleeve with their signature purple-pink hue.
Pulling out on one end of the sleeve will reveal the beautiful card – I'd say it's a very personal experience and genuinely amazing feeling compared to how other credit cards were delivered!
So why is it Revolut-ionary?
With a plethora of banking and payment apps already available in Singapore –  PayNow, PayLah, SoCash, Fave, Singtel Dash, TransferWise and more recently YouTrip and Instarem, Singaporeans are actually quite spoilt for choice when it comes to making payments and transferring money around.
That's in addition to global players like PayPal, card networks like Visa and Mastercard working with issuing banks to issue credit cards and regional players like AliPay and GrabPay. In fact, most of us can't differentiate the differences between all of them!
Sure, while the market for payment apps are becoming seemingly saturated, the market for electronic payments – US$1.7 trillion in 2017 – has been steadily growing since a decade ago. As we switch from cash to digital forms of payments, we want apps that serve our changing needs, give us personalised promotions and reward us for using them.
Revolut offers several really useful features that stand out in comparison to the many other apps existing today. Here are some of my favourites.
Transaction tracking and in-app budgeting
Apps that help me save more, earn more money or make personal finance easier are very appealing.
One useful feature is spending analytics, which helps us understand how we spend our money and where they are going.
Revolut helps you better understand your spending and expenditure each month, across various categories such as food, groceries and transport, across various merchants and across various countries if you travel a lot.
It also helps you set individual budgets for these categories so that you do not overspend, see projected spend each month based on scheduled payments and daily averages, and get notified when you are getting close to budget.
With this information at your fingertips, budgeting is so much easier with your expenses automatically tracked in real-time.
Fee-free spending in over 150 currencies at the interbank-exchange rate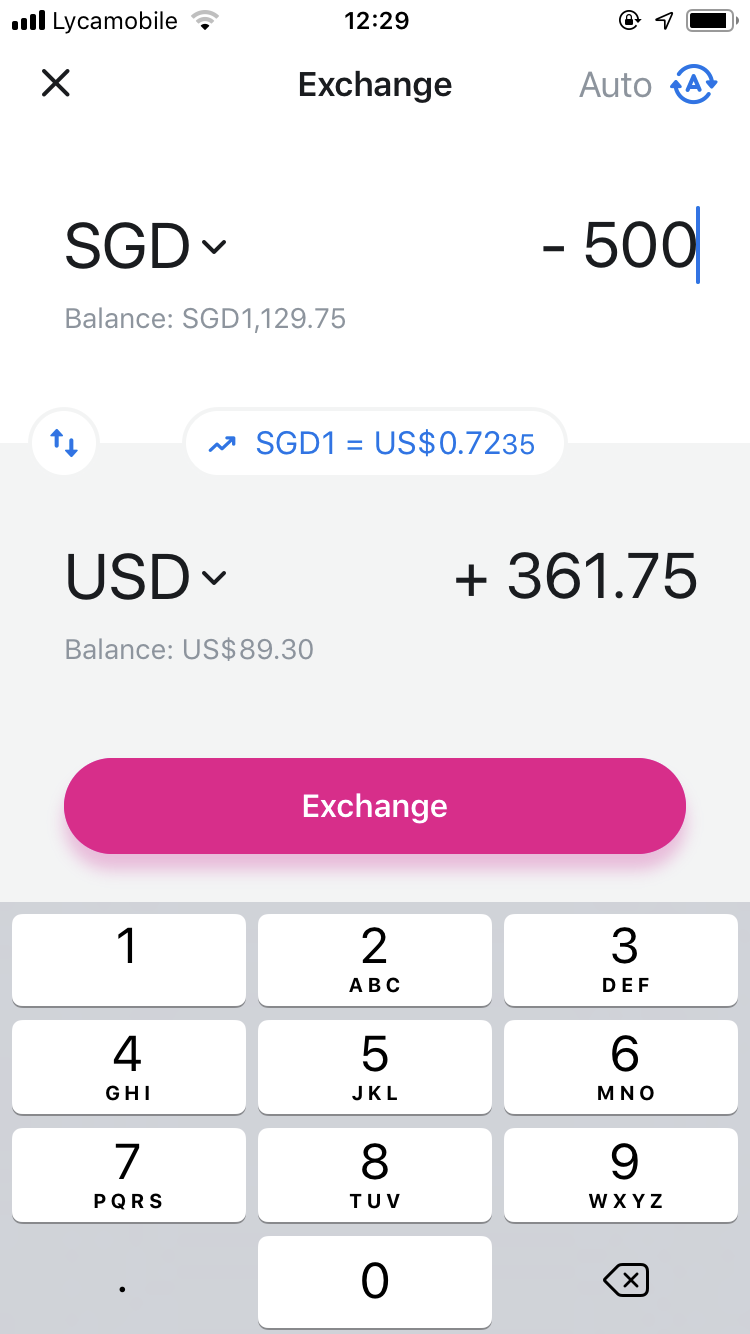 Revolut gives its users the ability to do money transfers at the interbank exchange rate – the rate at which banks transfer money between themselves on weekdays. Because currency markets don't open on weekends, Revolut charges a small fee to cover themselves against any changes in the currency market over the weekend, when it's closed.
For travel nomads like me, this is a killer feature. No need to visit the money changer at Chinatown or UOB Plaza anymore and stop paying exchange fees to all those middlemen.
With the contactless Revolut card, you can now exchange money instantly from one currency to another at the interbank exchange rate, pay zero FX charges to the bank, track your spending across what you bought in the app, split money with your friends and transfer money globally without any fees.
Imagine this scenario playing out during your latest trip to Bangkok. You bring your Revolut card along, use it to pay for your meal at the cafe, the app automatically exchanges your in-app SGD to Thai Baht at the 'Google rate', you automatically split the cost of the meal with 3 of other friends, and receive money instantly!
That's crazy.
Now that's not all. Within the app, you can freeze and unfreeze the card to prevent misuse if you lose it, and customise all sorts of features from contactless, swipe and ATM withdrawals all from within the app.
You can also enable location-based security to block your card from being used from another location from where you are – super useful to prevent overseas thieves from using your stolen card details.
Revolut's in-app card security allows you to toggle on and off location-based security and other card features based on your needs
International money transfers fast and free
If you're a student studying abroad or adult working overseas, Revolut gives you the same international money transfer from Singapore Dollars to your overseas currency and vice versa at the interbank exchange rate –  if you're transferring below $5000 a month.
However, for certain currencies and during the weekends, a 0.5% fee is added to the transfer value to account for poor liquidity. Compared to traditional interbank money transfers like SWIFT or independent transfer agents like Money Gram and Western Union, not only you receive your money much faster, your savings over time can be massive!
Innovative banking products and ideas
I understand that Revolut will not offer the full suite of products at launch compared to what is has to offer in Europe. But that's fine. It gives us a preview of what it has to offer as it builds up its operational and technological capabilities in the region. Remember, every region has its unique set of challenges and banking regulations that Revolut has to comply.
In Europe, Revolut also offers a cryptocurrency wallet for buying and selling popular cryptocurrencies, although you cannot transfer in and out of the wallet, except to other Revolut users.
Revolut Premium and Metal
While the app features and standard card is free, Revolut also offers a Premium and Metal subscription plan for S$9.99 and S$19.99 a month respectively, which additional features that frequent travellers will find useful.
The Premium plan gives you unlimited foreign exchange at the interbank offer rate, disposable virtual cards that give you new card details instantly generated before every online transaction, access to over 1,000 airport lounges worldwide, free turbo transfers, priority support and exclusive designs for your card.
The more extravagant Metal plan, gives you all the above plus 1% cashback in any supported currency on all your spending abroad, dedicated concierge and an exclusive Revolut Metal card.
Beating the banks at their own game
With a long list of useful features that continues to grow with time, Revolut is poised to disrupt the industry when it starts growing its product offerings catered to the local and regional market.
They recently launched commission-free trading for free and standard customers in 26 markets, including fractional share ownership and real-time price updates. When it comes to the pace of innovation in terms of product features, you can see how far it has come over just four years.
Its sleek user interface in a modern native app gives it a huge advantage in winning over millennials compared to traditional financial institutions which are less agile in delivering solutions that customers want.
I am confident that they will bring not just money transfers, but also insurance, investing and banking products to its app in the coming years, subject to local regulations, and it won't be done until it wins the game.
Sign up for Revolut's to experience the revolution yourself.
See also: Revolut vs TransferWise – the battle of travel multicurrency wallets
F.A.Q.
What is the minimum age to open a Revolut account?
You need to be at least 18 years old
How do I activate the card after receiving it?
You can activate the card by using it for a chip payment in stores, which will then activate contactless payments, transfers and withdrawals.
Do I need to exchange foreign currencies in advance before travelling?
No, you don't have to. Revolut will check your account for the foreign currency, and automatically convert at the point of purchase, but the exchange rate used might be weaker (if you had locked it previously) and transfers during the weekend will be charged an additional 1% by Revolut.
Which overseas ATM can I withdraw money from?
Any overseas ATM with Visa or Mastercard logo is alright – but beware of potential fees.
Why did my ATM charge me fees when withdrawing?
There are two types of fees when withdrawing at a foreign ATM –
ATM fees – levied by the ATM (bank fees), but these will be explicitly stated
Issuing bank card fees – levied by your card issuing bank, which in this case Revolut will not charge until you hit the monthly limit
When abroad, I was asked to pay in local or home currency, which should I choose?
Please select local, and have Revolut perform the foreign exchange conversion for you, so you don't have to pay dynamic currency conversion fees (additional 1-2%).
How do I get a disposable virtual card?
Premium members can order up to 5 virtual cards and it can be used for online purchases which you can dispose off after using.