You've probably heard it countless times – diversify your investments, don't put all your eggs into one basket.
Equity ETFs offer an excellent way to build a diversified portfolio of stocks. In Singapore, you might have probably heard of the STI, the index that tracks the performance of the top 30 stocks in the local market by market capitalisation.
Instead of investing in shares of many individual Singaporean companies like SingTel, DBS or CapitaLand, you could own a basket of 30 stocks by just buying the STI ETF. This allows you to diversify your risks (avoiding a Hyflux-style bankruptcy ) but gain exposure to stock market returns which has historically averaged around 7% annually with dividends reinvested. SPDR offers one and Nikko Asset Management offers another.
But let's take it two steps further.
Did you know you could own shares of almost every company in the entire world? That would give you maximum equity diversification.
Now, not one single country, region or industry downturn can wipe your entire portfolio out.
In the past, that would have been an impossible task. You either had to buy shares in every company in the world or combine multiple regional ETFs. But doing this would incur transaction costs that might be far too prohibitive for a retail individual.
With technology advancements, algorithmic trading and liberalisation of capital markets worldwide, this is no longer a dream.
Global indexes have been set up to track the equity benchmarks for the world. For example, the MSCI All Country World Index (ACWI) comprises of more than 2400 stocks from 23 developed markets and 24 emerging markets. This is almost 85% of the world's investable equity opportunity set.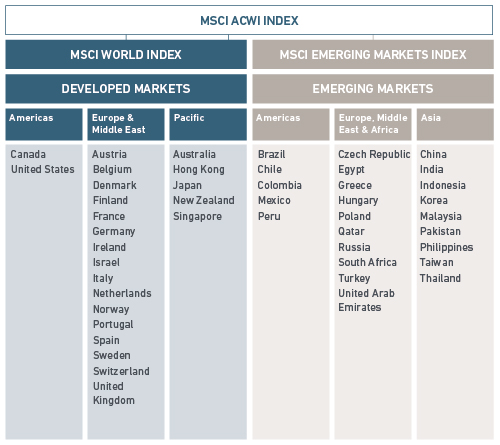 To own all these stocks – you simply buy the ETF that tracks the world index.
iShares and Vanguard – the two largest providers of ETFs worldwide – each offer their own variation with minor subtleties.
Vanguard offers the Vanguard Total World Stock ETF (VT) while iShares offers the iShares MSCI ACWI ETF (ACWI).
Let us take a look at the two popular ETFs a little bit closer.
| | | |
| --- | --- | --- |
| | VT | ACWI |
| Yield (ttm) | 2.27% | 1.92% |
| Expense ratio | 0.09% | 0.32% |
| Inception | Jun. 2008 | Mar. 2008 |
| AUM | $12.8b | $10.28b |
| 3M Avg Volume (Apr 2019) | 2.9m | 3.8m |
| Morningstar rating | *** | *** |
| No. holdings (Apr 2019) | 8060 | 1333 |
| Index Tracked | FTSE Global All Cap Index | MSCI All Country World Index |
ACWI is almost 3 times more expensive to own than VT, although it has a higher volume and liquidity.
VT on the other hand, has almost 6x more stocks in holding due to a different index used. The FTSE Global All Cap index includes close to 98% of the world's investable equity opportunity set.
In actual performance, both ETFs offer similar returns over the years and the difference between the two is trivial.
So if we actually observe the statistics, VT seems to be a more sensible investing choice for us.
Now let's understand the breakdown of VT and what we are actually investing in –
Everything said, this is a truly passive ETF that gives you a truly global broad market equity exposure with no frills at a mere 9 basis points of annual expense ratio. What's not to like?
But don't just buy VT just yet…
While there are probably more variations of global equity ETFs that give you broad global equity exposure, for example, some exclude emerging markets in their construction, your main concerns as a Singaporean are (1) dividend withholding taxes, (2) U.S. estate taxes and (3) expense ratios and (4) liquidity of the ETF.
In a future post, I'll share how you can efficiently own such an ETF considering the factors above. Stay tuned!