The inevitable has arrived. Here is all the downward revision in interest rates on your bank deposits.
Stanchart Jumpstart (From 2% p.a. to 1% p.a.)
Stanchart is revising the interest on JumpStart from 2% to 1% starting 1 July 2020.
Assuming you maxed out the deposit cap of $20K, then your monthly interest should fall from $33 to around $16.
Stanchart Bonus$aver Account (From up to 3.88% p.a. to 3% p.a.)
Another popular savings account, the Stanchart Bonus$aver Account, is cutting interest rates across salary, invest and insure categories. In addition, only up to $80K (from $100K) of your deposit balance is eligible for the bonus interest rates.
OCBC 360 (From up to 3.35% to 2.15% for balances up to $70K)
For OCBC account holders, interest rates on your salary crediting will now be halved to just 0.6% from 1.2% for balances up to $35,000. For those with balances from $35,000 to $70,000, the interest rate is also halved from 2.4% to 1.2%.
There will also be no more credit card spend bonus interest. All of these are effective 1 July 2020.
DBS Multiplier (From up to 2.08% p.a. to 2% for balances up to $25K)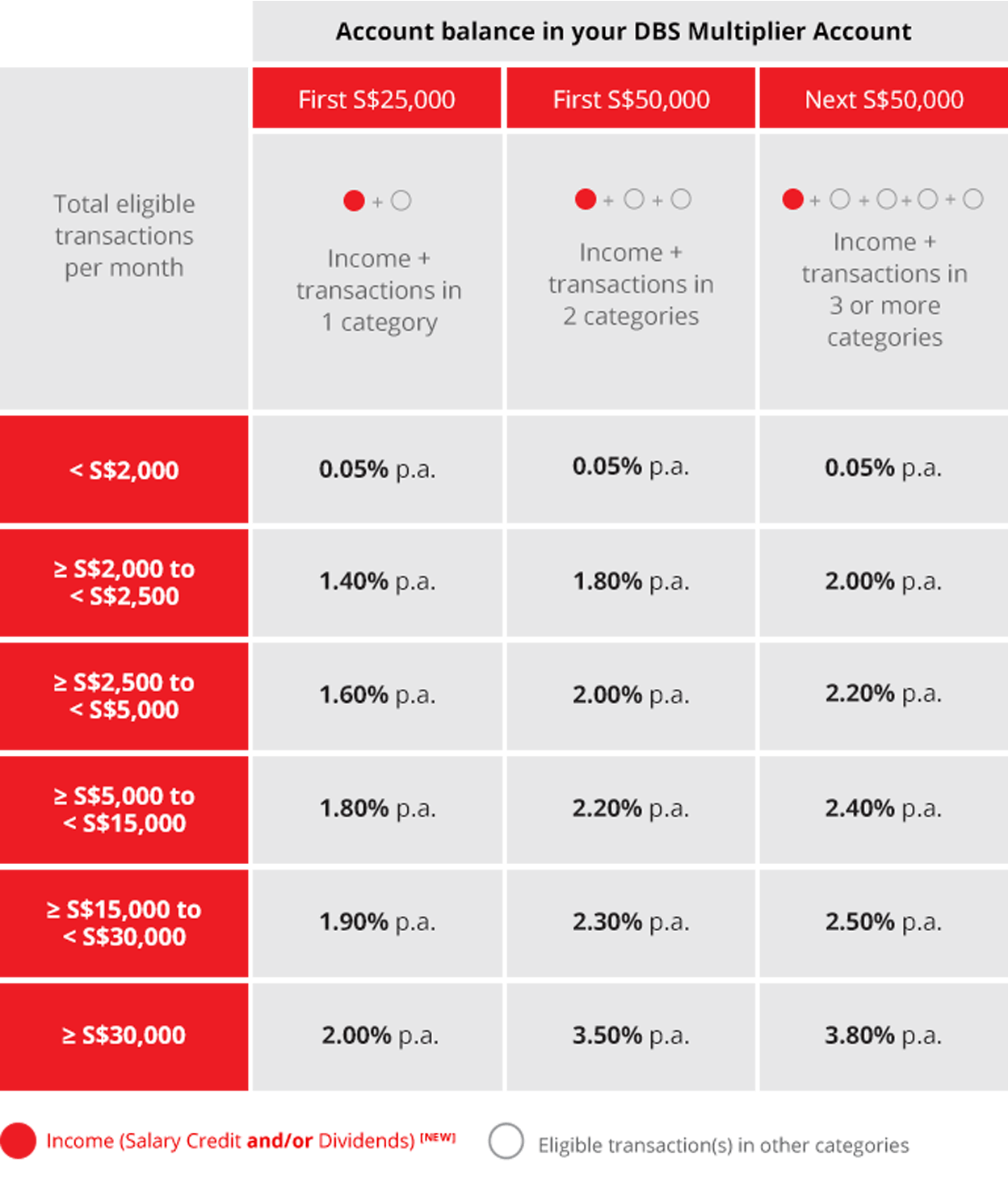 DBS has also made changes to their Multiplier accounts in May 2020. The greatest changes are from the $2,500 to $5,000 monthly eligible transactions, the most typical range, which has seen a 0.25% p.a. cut from before. We have not seen huge cuts yet but I believe they are on the horizon.
UOB One (From up to 3.88% p.a. to 3.68% for balances up to $75K)
UOB One customers have already seen the impact of their interest rate revisions starting in May 2020. Customers with balances in the $60K to $75K range should see minimal changes if they meet the card spend and salary/GIRO component.
However, across the board, customers who do not credit salary or perform 3 GIRO transactions have seen a 66% reduction in interest rates from 1.5% to 0.5%.
For UOB One customers, if you don't credit your salary or perform 3 monthly GIRO transactions, you're most impacted by the changes.
What are the alternatives?
There are few alternatives in the cash realm with interest rates falling, even on Singapore Savings Bonds, which now pay 0.8% average return per year for 10 years. That's insanely low.
In fact, we are now seeing the short end of the curve paying just 0.3% p.a (now you know how the government funds projects!)
If you're looking at short term liquid deposits, I think there are not much choices available. StashAway Simple (review here) has a non-guaranteed 1.9% yield, FSM One Autosweep has a 1.09% p.a. yield as of 26 May 2020. POEMS has a 1.13% p.a. yield for their cash management account. SingLife (review here) has a 2.5% p.a. yield on the first $10K that hasn't come down yet.
All the yields are subjected to change, but they are flexible in withdrawal terms.