Covid-19 – the deadly virus strain that has led to a concerted worldwide effort to contain its spread – has been dominating news headlines every day for almost two months now since Chinese New Year.
Markets have fluctuated wildly over the past two weeks, safe assets like gold and long treasury bonds have rallied, while investors measure the effects of government stimulus against the growing spread of virus cases and deaths worldwide.
The virus has the potential to create both demand and supply-side shocks and drag economic growth lower for all countries worldwide.
As consumers stay indoor, avoid travel and reduce activity, suppliers and companies are also slowing growth, avoiding hosting events and curbing production, prompting a cyclical downward spiral of both lower aggregate demand and supply.
In an attempt to mitigate the effects of a short term slowdown, governments around the world have tried reigniting their economies through a combination of fiscal and monetary policies. The US has made the largest emergency rate cut of 0.5% since the financial crisis, while China injected liquidity into its financial markets in the early days of the crisis, but avoiding further aggressive stimulus as the virus seems to be controlled in lieu of the aggressive measures put in place by the central government.
I want to spend a few paragraphs talking about the local response to the virus, as many local investors are invested in listed local companies.
In Singapore, the government has implemented a series of policies with packages to help individuals, SMEs and corporations tide over this difficult period. From individual cash payouts and co-funding employee wages and tax-rebates to support corporate cash flows, the very expansionary budget will cost the government S$10.9B, or 2.1% of Singapore's GDP, which is actually higher than 2009's budget deficit during the financial crisis.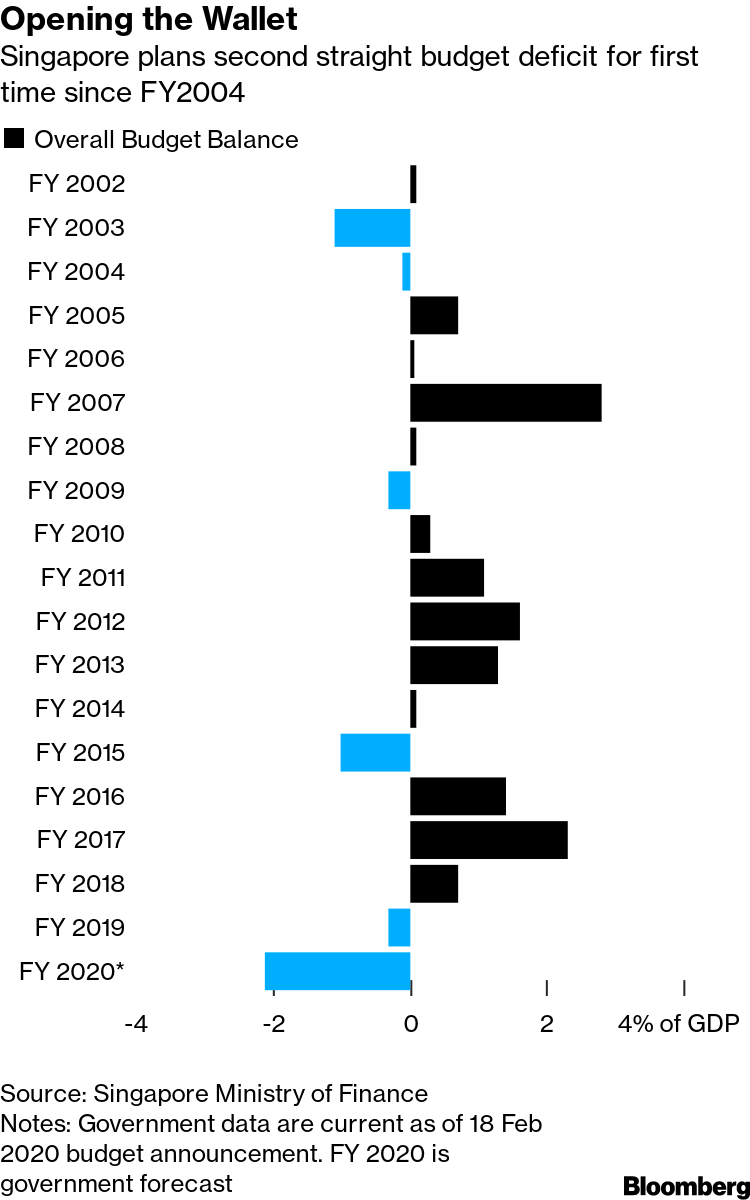 If we look at how the budget was structured, it was aimed to boost the local economy through a mix of demand and supply-side factors – introducing subsidies and cash rebates while concurrently improving productivity and offering tax incentives etc.
As I mentioned above, the danger of the virus is how it impacts both demand and supply concurrently – and it cannot be easily resolved by just trying to stimulate demand if companies are unprofitable and closing down.
The demand side of the equation is easier to tackle, by boosting family net incomes directly through a series of cash rebates, GST vouchers, delaying the GST hike and more, it can be easily managed through prudent government policies.
However, I see managing the supply side a little more difficult – as we are suffering from a rout of challenges both global (e.g. trade war) and local (structural economic issues) in our small but highly trade-dependent economy.
Productivity and labour force growth has always been a big challenge for Singapore and that impacts our long-term growth potential. Throughout the years, we have depended on skilled but expensive foreign labour to grow, but firms have taken a backseat in optimising worker productivity.
The graph below shows the changes in the annual Value Added per Worker, a measure of productivity, showing a clear downtrend in both goods and services industries especially if you exclude the large spikes during economic recovery (e.g. 1998, 2004, 2009)
At the same time, our labour costs, measured by unit labour cost (indexed to 100 in 2015), has been soaring upwards, reflecting the rising cost of doing business in Singapore.
The result is a soaring cost base with low worker productivity, which is detrimental to the long term success of the economy. There are several reasons for this, including spending too much time on repetitive and administrative tasks and lack of commercial innovation.
Our government is advocating for the urgent need to reskill and upskill the local workforce through a series of targeted measures, such as additional SkillsFuture credit top ups that's time-bounded, to encourage Singaporeans to make use of them sooner rather than later. Technology skills remain key to boost productivity amidst external headwinds.
Despite near-term headwinds from tackling the virus and maintaining calm from the challenges of masks hoarding and fake news, I expect that virus fears will fade over time and economic output will normalize. Singapore can take this opportunity to prepare itself for the rebound and accelerate the needed changes.
Now, back to the virus situation and how much worse can it get?
China has started restarting factory production, and workers are slowly heading back to work amidst several downgrades of emergency levels in various areas. New cases in China have fallen, but new cases outside of China have risen dramatically in South Korea, Iran and Italy, and have exceeded 100,000 worldwide according to this tracker.
The spread of the virus across the rest of the regions is expected to accelerate in the coming months before stabilizing like China. With a fatality rate of below 3%, it's not as deadly as SARS (9.5%), MERS (30%) or Ebola (85%), but spreads faster. Most people recover from it, with the survival rate of closed cases exceeding 90% worldwide.
From an investor's point of view, you can take a structural approach to invest in the markets, especially if you believe that more goods and services will be produced in the future, and economic output will be higher than today.
Instead of fearing the coronavirus outright, you should ask yourself questions – which industries or companies are poised to benefit from an event like this? What is the typical behaviour of consumers and where do they spend money on? What are some secular long-term tailwinds you can ride on if this episode leads to a strategic shift in the way businesses are conducted?
In my opinion, e-commerce and digital/cloud companies will continue to see exciting growth prospects ahead. Businesses will accelerate digital transformation efforts, facilitate work from home arrangements, and move their services online. Local property developers and REITs with low debt might stay flat or see reduced demand and lower rental incomes, but may benefit from the lower interest rates to boost acquisition efforts or refinance debt at cheaper rates. However, risks such as poor rental reversions and lower rental incomes remain – given rents are already sky-high and pose a serious threat to the sustaining operations.
Retailers, utilities, telcos and other stable dividend-yielding companies should see some resilience in their businesses but they might be disrupted from innovation – you should look for those that are ahead in digital transformation efforts, command high switching premiums from users or are market leaders in their industries.
Some questions you can ponder on are – where the valuations for these companies at right now? How do they compare to their peers and the industry, and at what earnings multiple are you paying for them today? Do you have the right amount of downside protection if your investment turns against you? Is the current economic environment accommodative of your investment thesis?
Data has shown that owning equities is still relatively attractive (although not at its lowest).
The global equity risk premium, which compares the expected risk premium for holding equities compared to the risk-free rate, has never been higher since 2013 at 6.6%. This is despite an era of low-interest rates, and the valuations of global companies are also close to their 20-year average.
Rather than thinking that you're owning stocks that might crash in value some time in the future, think of it as buying businesses at a discount as the price goes down. If you're buying high quality businesses, then there's no reason to fear a correction – it is an opportunity to accumulate them at a bargain.
If you're a long term investor, you really shouldn't fear the virus, but fear itself.
Disclaimer: Content is provided for information only, and no liability will be accepted for any direct indirect or consequential losses or damages arising from or in connection with the use or reliance of this article's contents.